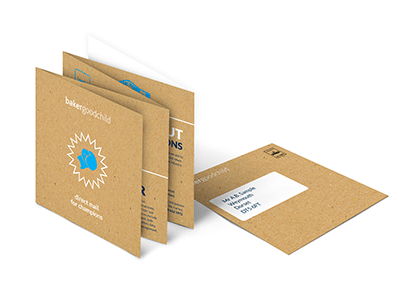 Direct mail is more effective than e-mail. Don't believe us? Here are some statistics:
• According to a study conducted by DMA – when direct mail is sent to an existing customer, the response rate is 3.4%. The response rate for email is 0.12%.
• According to a study conducted by Ritter's Communication – 50% of people pay more attention to direct mail than any other advertisement mediumA successful direct mail campaign requires not only a creative concept that 'talks' to the right audience, but  well considered copy to initiate a positive response.
Top 5 considerations when planning a direct mail campaign:
Consider your objectives
Define your target market
Define your target message
Consider how audiences will respond
Evaluate the response to your direct mailing
Our direct mail concept for Bakergoodchild  played on the fact that they are a 'heavyweight' within its industry.  As the campaign pieces are created we will share these with you via our website.
Click here for more information on the project.
If you're still looking for inspiration, we recently created a suite of posters for the staff of Paragon Skills, a UK wide training provider for apprentices. We were trying to get them all to 'buy into' the social media platforms that were up and running. Please take a look, tell us what you think!
Please call us on +44 (0) 7970 567387 or email: [email protected] and we'll get straight back to you.