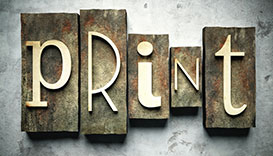 When meeting companies I am often told, "we no longer use printed material in our marketing because everyone uses email or finds us on the web", yet, according to a survey by Pitney Bowes, 76% of small businesses say that using a combination of print and digital communication would be their preferred approach.
Why then, should we use printed material? When people choose to buy a product or a service they use their senses as part of the process, the more senses we can engage the more likely they are to buy.
When holding a piece of printed marketing material we engage both our sense of sight and touch and this can be enhanced with differing finishes like embossing or laminates. Even the sense of smell is used because the inks and laminates all have smell, scents can even be added.
Not only does print utilise most of our senses, but, because it is less common than emails, people are more likely to read through the detail of your message before discarding it, how many 1,000s of emails never get opened? A personally addressed envelope I would suggest is almost always opened by the intended recipient. Add a QR code to your marketing material and with the prevalence of NFC technology you can even link your printed message to your digital message.
So, is print still relevant when promoting your business? I believe, that, with well considered design and content, printed material will remain a valuable part of marketing for many years to come.
If you would like to see some examples of well considered printed marketing material, please take a moment to explore the rest of the site.